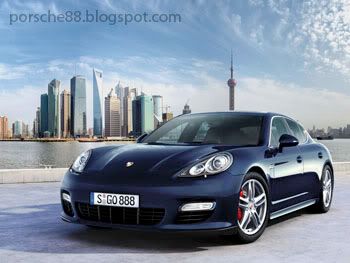 The
Porsche Panamera
is a four-door, four-seat luxury sedan, which launched in 2009. It is front-engined with rear wheel drive, with four-wheel drive also available.
The Porsche Panamera design, debated since the first spy shots appeared couple of years ago and even more intensely since its world debut at the Shanghai motor show in April, is not
elegant in the classical sense. But thanks to a series of traditional styling cues, you're
aware that it is a Porsche from the first glimpse.
There are three versions of the Porsche Panamera, including the $89,800 S and the $93,800 4S, both running a 400-hp, naturally aspirated version of Porsche's 4.8-liter, direct-injection
gasoline V8--as used in the Porsche Cayenne--in rear-wheel-drive and four-wheel-drive guise,
respectively. The headline model is the $132,600 all-wheel-drive Turbo, whose boosted
4.8-liter V8 kicks out 500 hp. All will come standard with a seven-speed dual-clutch
gearbox fitted with a fuel-saving stop/start function that kills the engine at stops.
2010 Porsche Panamera Turbo Spec.
- Base Price : $132,600
- Drivetrain: 4.8-liter, 500-hp, 516-lb-ft, turbocharged V8; 4WD, seven-speed dual-clutch
- Curb Weight: 4,344 lb
- 0-60 MPH: 4.2 sec (mfr)
- Fuel Consumption: 19 mpg (mfr)