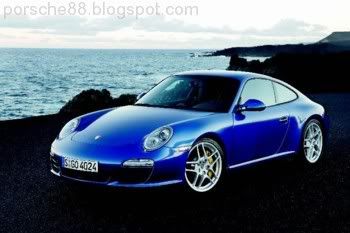 Porsche
has released photos and details for its next-generation 911 model series, with four new models – the 911 Carrera Coupe, Cabriolet, S Coupe and S Cabriolet – to go on sale in September in North America.
All offer a higher level of performance thanks to their all-new, flat-six engines, displacing 3.6 and 3.8 litres, while for the first time in a Porsche sports car, the engines will use direct fuel injection and can be coupled with the new optional seven-speed double-clutch gearbox, a Porsche first.
These new technologies result in increased performance but with fuel efficiency up to 13 per cent better than its predecessor. The 911 Carrera produces up to 20 per cent more horsepower, while the Carrera S produces up to 30 per cent more horsepower, up to 385 hp.
The new Porsche-Doppelkupplung (PDK) double-clutch gearbox combines an automatic transmission with the gearshift capacity of a sequential gearbox used in race cars. It replaces the former Porsche Tiptronic S on both Carrera and Carrera S models.
Exterior enhancements in the new Porsche include new front bumper with larger air intakes, LED daytime running lights, bi-Xenon headlamps, and LED taillights as standard equipment, with available Dynamic Cornering Lights on all models.
Source : www .canadiandriver .com